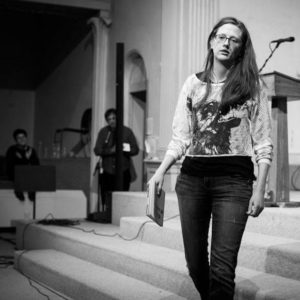 Krystal Languell lives in Chicago, where she works at the Poetry Foundation. She is the author of three books: Call the Catastrophists (BlazeVox, 2011), Gray Market (1913 Press, 2016), and Quite Apart (University of Akron Press, 2019).
She has published six chapbooks: Last Song (dancing girl press, 2014), Be a Dead Girl (Argos Books, 2014), Fashion Blast Quarter (Flying Object, 2014), Diamonds in the Flesh, a collaboration w/ Robert Alan Wendeborn, (Double Cross Press, 2015), Archive Theft, a collection of interviews, (Essay Press, 2015), and The Big Flawed Heart  (Essay Press, 2017).
A NYSCA/NYFA 2017 Artist Fellowship Finalist in Poetry, she previously completed a Lower Manhattan Cultural Council workspace residency in 2014-15 and a Poetry Project Emerge-Surface-Be fellowship in 2013-14. Since 2010, she has helped coordinate the activities of Belladonna* Collaborative while publishing the feminist poetry journal Bone Bouquet. She was an adjunct in New York City for seven years. New and recent work can be found in Black Warrior Review, Colorado Review, Fence, and elsewhere.